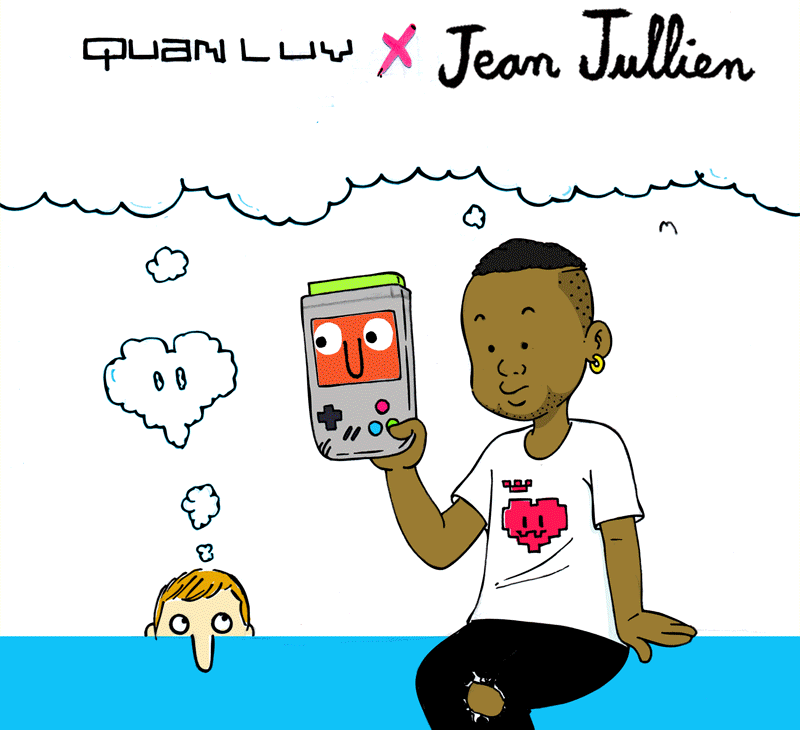 Jean Jullien is a French artist based in London, UK known for his comical satire illustrations. I've been following Jullien for quite some time and can admit he's one of the few unique modern artists that I admire. I recently had the opportunity to interview the hommie to discuss his creative style as well as his latest up coming project set to release out in Los Angeles.


Yo yo! Bonjour! Je parle a little bit of French..(but it sucks) Anyways, what up Jean? How are you?
I'm good thanks. It's been a pretty busy month.I've done a performance for the opening of the New Tate Modern, launched my new book with Hato press and just came back from the opening of my new show of sculptures in Ghent and I'm now on a plane to L.A for the launch of a show at HVW8 gallery presenting my collab with Almost Skateboard as well as Jean André's collab with Cliché.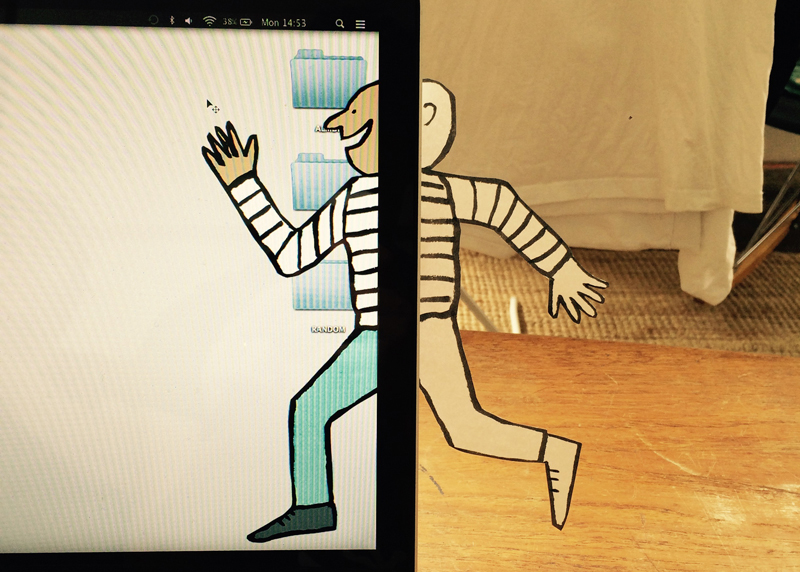 Sweet, always got something in the mix. Now you have a very unique art aesthetic, how would you describe your style?
Hmm, playful & humorous, often observation based, and aesthetically it's quite colourful and bold. Some say it's pretty naive looking too.
Who would you say inspired or helped influence your style?
It's a mix of a lot of things. Watching cartoons, reading comics and bandes-dessinées, going to museums and galleries with my mom, skateboarding… My mother's a curator and architect, she introduced us to a lot of modern and contemporary art and our dad and uncles were avid readers of comics so we grew up with the best of both worlds.
Hence my inspirations would range from Vuillard to Savignac, Otomo, TMNT, the X-men, Dragon Ball Z, the Eames, Alexander Girard, Le Corbusier, Picasso, Gregory Crewdson, Sempé, Tomi Ungerer, Saul Bass and many more…
Real men read comics and cartoons 😉 . We here in New York highly appreciate the independent & underground street art/ street fashion community. Has the UK, London, Paris street scene played any role in your development as an artist?
It's definitely been all around me, living and working in London. As a creative you try to keep an eye on what's going on around you, and especially in less established circles where people are constantly reinventing things and challenging the existing. But I never felt like I belonged to a certain community. I never particularly wanted to either, I'm pretty happy being on my own and teaming up with people when the occasion's right.
Definitely agree. How would you describe the current state of the art community? Do you feel it's over saturated in anyway or would you say it's in a great state?
I think the more the merrier. it certainly makes it more difficult to stand out, but at least it feels like everybody gets a shot at it. On the other hand, there is so much going on, it can be quite overwhelming. I'm constantly torn between the excitement of discovering new artists and the realization that it's never ending, that artists seem to be in constant supply. But then again, I don't know if I feel like I belong to an Art Community so I don't know if my views on it are very relevant.
The internet seems to be a very beneficial platform for emerging artist, would you say the internet has helped spread awareness to your art form?
Absolutely. I started sharing my work when I was studying at Central Saint Martins and thanks to the snowball effect of blogs and social media, my work got shared more and more and I started getting jobs. I feel like I owe a lot to it, if not most of my opportunities. It's such a democratic way to get your work out there and to exchange with people. But it's also so… "noisy". A comment section can easily transform itself into a battle zone where everyone's shouting at each other in a way they'd probably never do in real life. I now feel like I want to share my work but don't necessarily want to engage as much as I used to. I'm a visual person, so sharing images is fine, but comments and discussions, I don't know…
There's so much anger. I try to do something positive in my work, to recycle how angry things make me and to turn them into visual puns based on observations, to find comedy as a remedy to what might have started as frustration.
That's peace. Are there any emerging artists that you have your eyes on now?
There are too many that it's difficult to know who's new or what. I can tell you the ones I like at the moment: Yu Nagaba, Yann Le Bec, Josh Cochran, Oscar Gronner, Kaye Blegvad.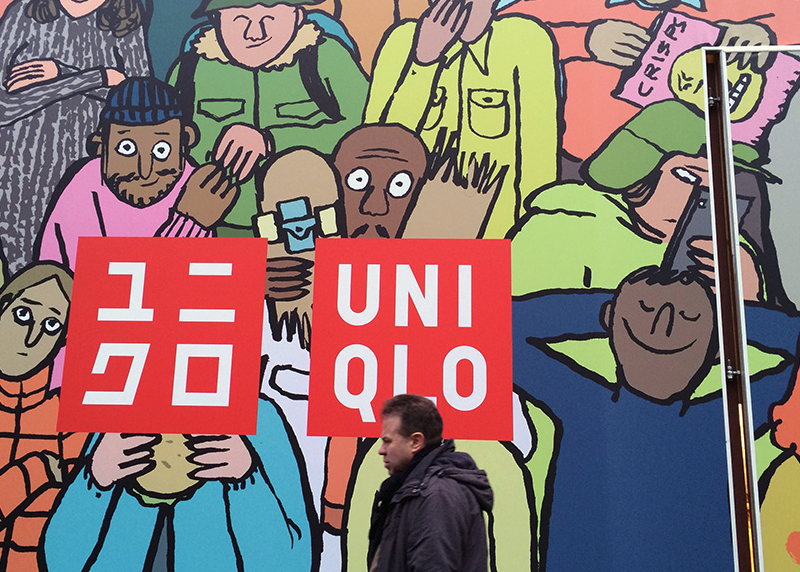 You've been commissioned by various companies & projects, which particular project would you, say you've enjoyed the most?
Wow, there are a lot that I've enjoyed. And to be honest, they keep getting better. Working with certain magazines or newspaper on a regular basis is great. I love working with the New Yorker for example. I really enjoyed designing a bar in Nantes, I loved that capsule collection I did with Olow. But there are so many things coming out this year and next that I'm really stoked about and that I can't necessarily talk about yet!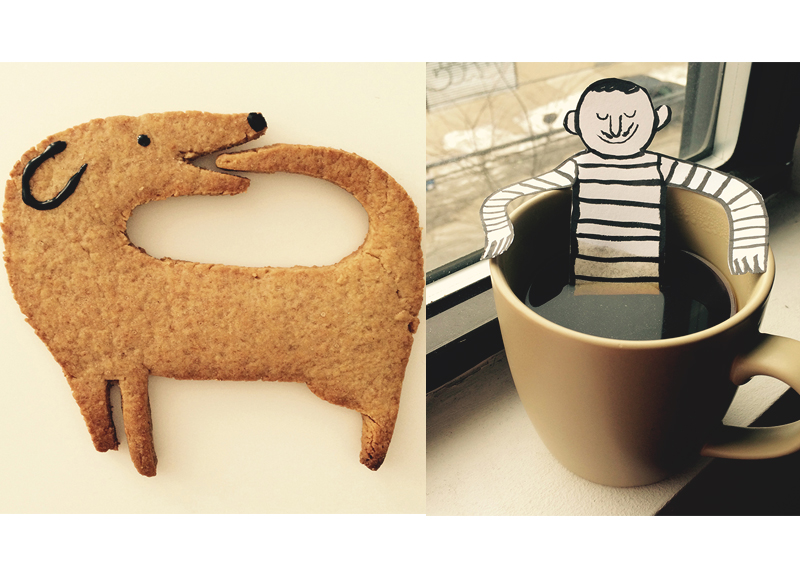 Your ability to use anything as a medium to express your creativity is unique but is there medium you enjoy the most?
Not really. the most evident is brush and paper, because that's how I draw the most often, but my drawing skills are so limited that I tend to focus on idea more than anything. They're like play dough that I try to stretch as much as possible by using different mediums, to see which one works best to translate that idea. I don't want to restrict myself too much. I think that if I'm bored, people get bored too.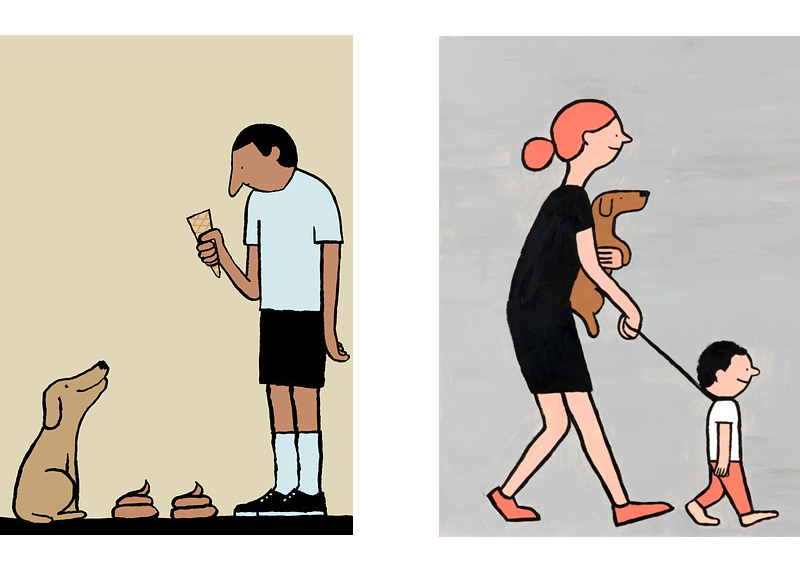 Some followers were introduced to you by Colette in Paris, do you have a tight relationship with them?
Sarah from Colette have been a really great supporter of my work from early on. She's really great at helping artists get exposure and very easy to work with. There's a great enthusiasm that makes you want to work with her.
I see that skateboards are one of the many mediums that you use for your creative works, are you a skater yourself?
I used to skate a lot when I was in France. Everyday, for years and years. I was never great at it, but I really enjoyed the culture of it. Going to the same spot everyday, getting to know people over time. There's a really nice openness to others in skateboard that it took me a while to understand. It's so coded. But that's also something I was really fascinated by.
Skateboard played a huge part in my life. I was always skating and collecting chocolate skateboards decks. I was obsessed with Evan Hecox' work and how graphic it was. The colour palette, how they'd assemble into a big scene, etc… The fact that they'd put so much effort in creating amazing illustration that were bound to get trashed… there was something fascinating in that. For me, Skateboards represent practical graphics at their best.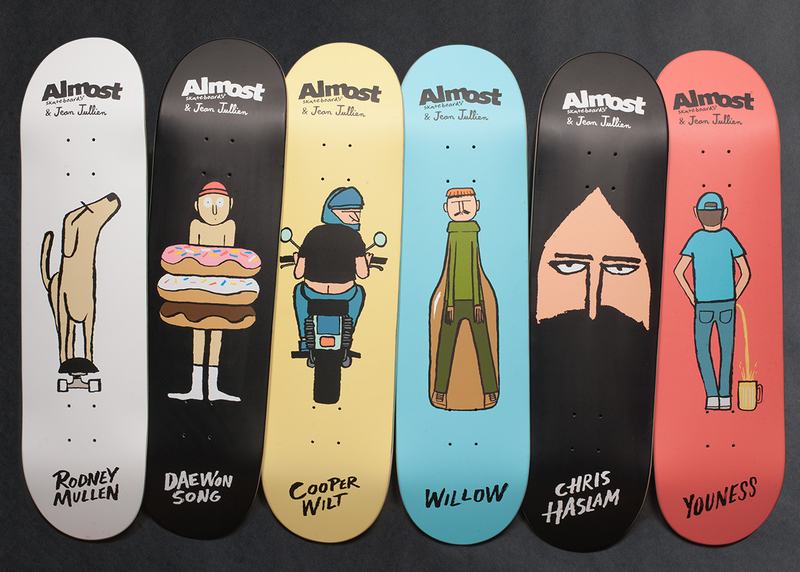 The streets have been buzzing about the up coming release of your most recent collaboration with ALMOST skateboards in LA, how did that come about?
I had a show with HVW8 gallery in Los Angeles last year and Tyler (who owns and run it) put us in touch. They've been super easy to work with. I was already sold on doing anything with them as skateboard has played such a big part in my life, but they were so cool that it made it all very smooth. They just gave me a few key words regarding what each skaters liked, etc. and that's what I based the series on.
I'm loving the Cooper Wilt board, how was his reaction along with the other tribute skaters when they seen your interpretation?
Well I've seen some of these guys reactions online and it's been really nice. Almost posted a photo of Cooper Wilt recreating the drawing in real life, that was pretty awesome. They all seem like great guys but I haven't met any of them yet so I really hope that the opening of the show on Thursday will help with that! They've got Rodney Mullen and Daewon Song on the team, and I remember growing up watching their versus video over and over again. It's been very humbling to draw decks for them.
LA definitely has a strong art scene but we'd love for you to make some moves in New York, you have an anticipating audience who truly admire your style, how can we make something happen?

Hey for sure, I'm always open to new projects. I've lived in NYC for a few months and fell in love with the city, I'll always have time for anything happening in New York.
This was awesome, before we end, is there anyone you want to shout out, say what up to or give thanks to?
I want to say thanks to Eric Wollam and Tyler Gibney for making the Almost X JJ collab happen!