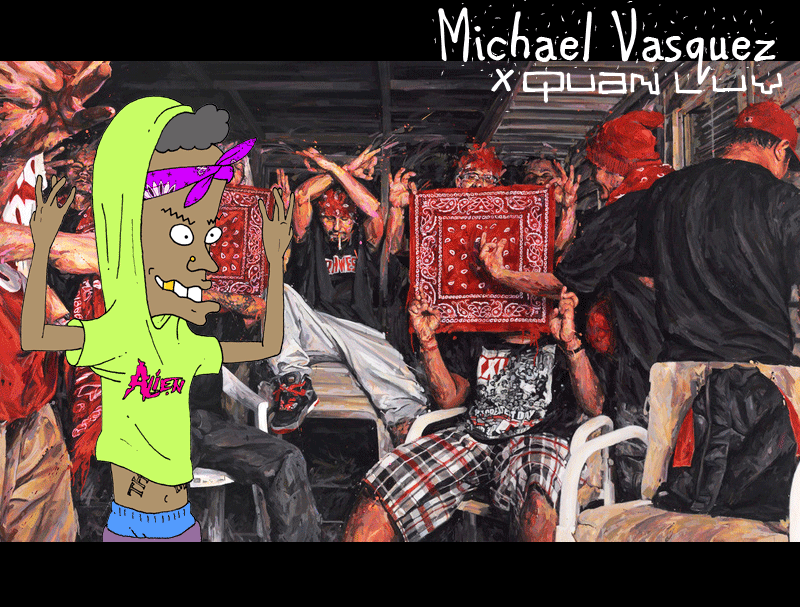 Florida based artist Michael Vasquez is an artist that needs no introduction. If you know what's up, you know what's up. His ability to express subculture reality through paint mediums is mind blowing and I recently had the opportunity to build with him about his creative endeavors. A truly inspirational painter who expresses that his art is much deeper than the strokes laid out on canvas. Peep the interview after the jump.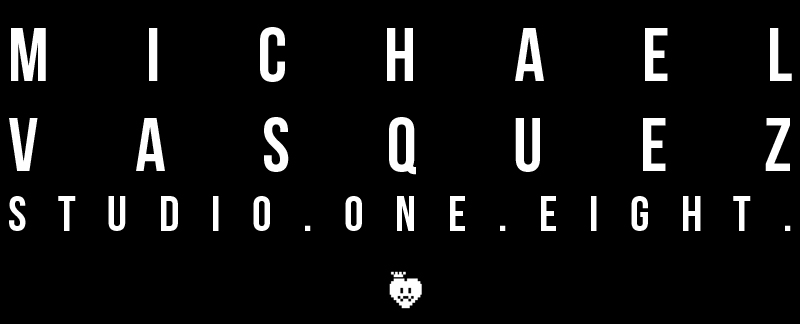 It's about time we've linked up. I feel like we've been showing each other love for a minute now but haven't really gotten a chance to build. What's up, how are you?
I'm doing great Steven. I'm excited to chop it up and share some insight into my work and world!
First and foremost, I have to say much respect to your craft because you works are extremely powerful and inspirational. At what age did you begin painting?
Thank you for those kind words. I've been interested in art, in one way or another, since I was about 8 years old. Art became not only a hobby, but also an aspiration that would mirror the growth of my interests. When I was young, I liked comic books, so inherently I wanted to become a comic book artist. That aspiration would evolve to me wanting to become an animator, then a video game artist, to finally a graphic designer, specifically in application to the fashion / apparel industry. This landed me at New World School of the Arts in pursuit of a degree in graphic design upon graduating from high school. There, I was introduced to an aesthetic of painting that was vibrantly energized through the use of color and mark making. I set out to learn this approach by taking painting electives and I fell in love with the medium. Prior to that, painting just wasn't my thing. I wasn't terrible at it, but I was exceptional at drawing, and people, especially when they are young, tend to stick to and like the things that they are good at. Once I got past that and proved to myself that I showed some promise with the brush, I painted more and more and got better and better, pushing and evolving that aesthetic that sparked my interest, hopefully into something completely mine.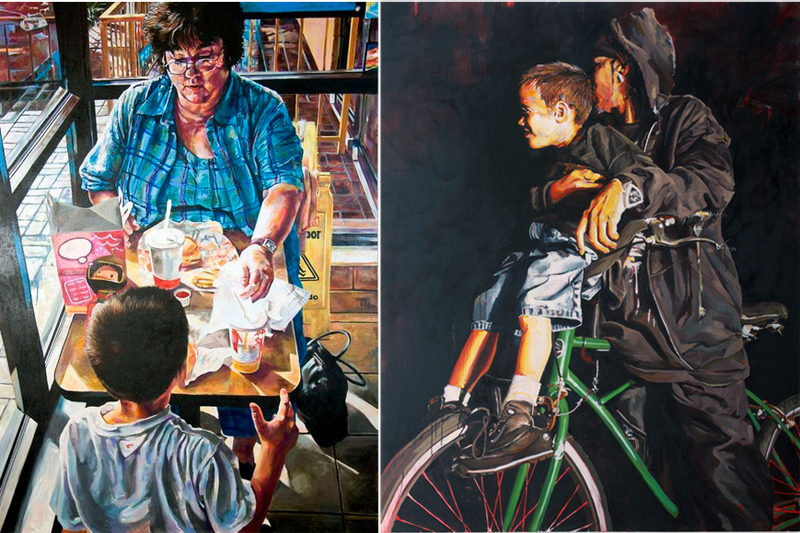 It's amazing how you're able to express your experiences through art. How was it growing up in Florida?
I love Florida. I've been here my whole life. I was born and raised in St. Petersburg, then moved to Miami when I was 18 for art school. I've been here ever since, with no intention of leaving anytime soon. St. Petersburg has come a very long way over the past 10 years or so, but it wasn't a very exciting place during my time there. It just seemed culturally lacking… I don't mean ethnically; I guess I'm speaking socially. There just wasn't much happening beyond the Florida beaches and sun. Granted, it was a retirement capital at one point, but
(even young) people seemed to just float by with a lack of overall ambition. There wasn't an art scene, or much entrepreneurship back then. There wasn't much to do, period. I think this contributed to the gang problem that was prevalent there in the '90's. Recently though, there has been a surge in the arts and local businesses and that has created excitement and is attracting even more growth.
Miami is such a global and culturally diverse city, and that has really expanded my vision and understanding since moving here. Miami introduced me to the art world, and the very idea of a living, working (real) artist that creates the work they want to create, and is supported by and recognized for their contributions to art.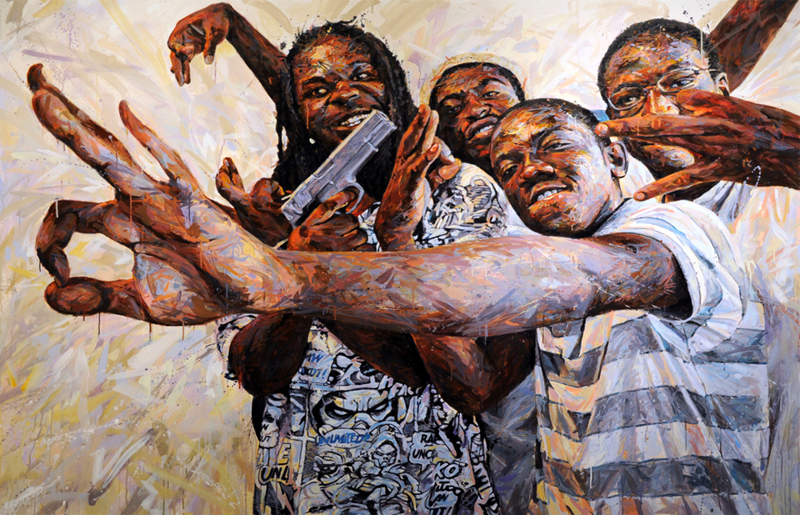 It's not common that we see artists able to really expose the reality of certain subcultures and communities. What inspired you to want to exhibit the gang lifestyles?
My work is loosely inspired by my upbringing as an only child of a single parent mother. That's where it's rooted anyway. My parents divorced when I was a baby. My father ended up getting very sick and passed away when I was 12. Prior to that, he wasn't really in my life, but he did try in his later years in light of his illness.
So I didn't really have a father figure in my life. When I was old enough to start to venture out into the neighborhood after school, I befriended kids that happened to be in or associated with a neighborhood street gang. I guess the idea of a street gang was especially attractive to me as an only child with no real male guidance, trying to come of age. The gang embodied this idea of an extended family governed by its own set of rules and values, deeply embedded with stereotypical traits of masculinity that could act as, for better or worse, a placeholder for the missing father. That's really where the foundation of my work lies. Everything both physically and psychologically that is a part of that experience is what I'm interested in. Of course, I didn't realize these things as I was going through them. These are all revelations that would come later in life through the very process of creating art. Self discovery through art, in a way. Deeper than just 'gang life.' these themes play out through the exploration of ideas about family, community, territory, influence and emulation, strength, pride, and aggression.
I see you as a story teller who is capturing the unspoken/unseen realities in urban communities. Why do you think a lot of these young kids gravitate towards these lifestyles?
I think its rooted in the environment the child comes up in, which unfortunately is something the child does not have the power or ability to change. He can not move himself and family to say, a better neighborhood. But I'm not necessarily even talking about just the physical environment as in neighborhood or landscape, – it's compounded by the psychological environment and ultimately a lack of proper guidance which in turn creates an open invitation for improper guidance to enter the child's life. Children need to learn about ambition, we as parents and adults have to teach them. We have to help them create goals and share stories of people's success and triumphs over the worst of obstacles. We have to inspire. We have to somehow get them past this idea that positivity, success, being smart and getting good grades is 'soft.'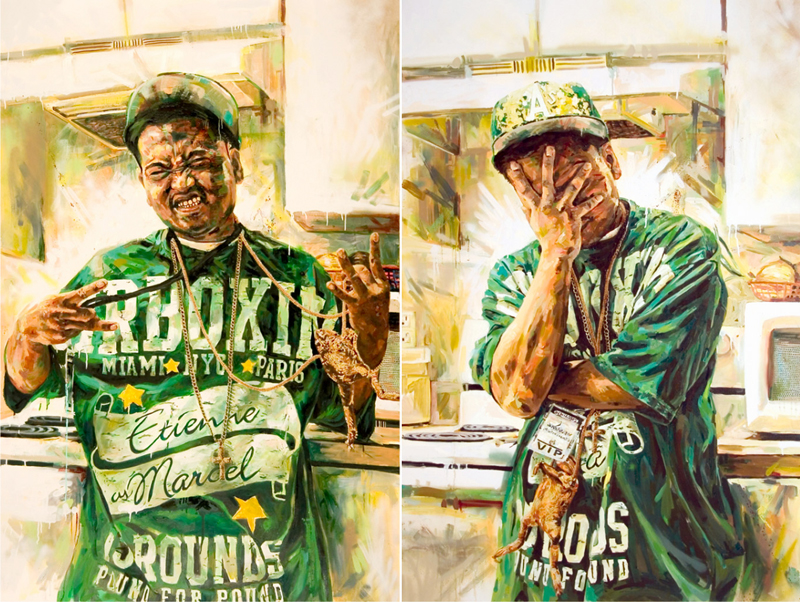 What message are you trying to convey to your audience when you create?
Much of my work is documentive and narrative. Beyond trying to deliver a message, I hope that I am contributing to filling a void. You know, it's really kind of crazy that there's so much 'street art' and so many 'street artists' out there, but very little serious visual art is being made about street life, mentality, and culture. I want to be a prominent voice in that conversation about this identity and part of the human experience.
Who were some artists that you admired growing up?
Portraiture and figurative painting have always been the things that spoke to me. In terms of classical painting, the Baroque period is my favorite, particularly Caravaggio, Velazquez, and Rembrandt. I think what captivates me most about the Baroque period, aside from the masterful rendering, is the sense of drama created through composition and lighting. In terms of artists from the 'contemporary' period, I like Bacon, Frued, and Jenny Saville for their handling of flesh and the attitude and energy prevalent in their stroke. I also like Chuck Close's use of mark marking at the very crossroads of realism and abstraction. Also Alice Neel and Barkley Hendricks are both relevant and influential to me.
Nice, So what are some of your favorite comics, cartoons, and/or graphic novels? And why?
I really haven't been into that for a very long time, but I liked the older 1990's classic stuff. And my interest in it followed the artwork, and therefore the artist, as opposed to the title, character, series, or story. I liked Jim Lee, Todd McFarlane, and even though the internet beats him up all the time – Rob Liefield. I guess I would say, all in all, Stephan Platt was my favorite comic book artist. There was something about the toughness and grit of his work that attracted me. Also the splatters [S.PLATT for the heads]. I feel like his influence can still be seen in my work.
When creating art, what type of music do you like to vibe to?
Lately I've been more of the podcast guy. I listen to all kinds of podcasts, – everything from financial, entrepreneurial, journalistic, interviews, comedy, rants… Some of my favorites right now include Bill Burr's Monday Morning Podcast, The Joe Rogan Experience, Drink Champs, Rap Radar, Beautiful / Anonymous, The #AskGaryVee Show, So Money, EO Fire, and This American Life.
Musically, of course, I like all kinds of rap music. There's really just too many to name. I also like to zone out sometimes on some ambient electronic vibes. Think Arovane's 2004 'Lilies,' Prefuse 73's 2009 'The Forest of Over Sensitivity,' and Friendzone's 2012 'Collection 1.'
What are your thoughts on the current state of the art scene?
I think it's an exciting time to be an artist. The internet has done so much in terms of access to media and information. This enriches both the work being made, and also provides a platform for the artist to not only share their work with the world, but also a place for the development and nurturing of relationships with curators, galleries, collectors, and other artists.
The market seems to be in an OK place right now financially. Could be better, could be worse; but isn't that the case with everything, always? I will say biasedly, that I look forward to a shift away from the abstraction that's been so hot for so long now, back into more representational work. I think we're starting to see this shift as evidenced by recent high profile exhibitions such as Jeffrey Deitch and Larry Gagosian's "Unrealism."
Are there any particular emerging artists that you have your eye on or appreciate?
My boy Hox (@hoxxoh) from Miami. I don't know if I'd necessarily consider him 'emerging,' as he's been putting in a lot of good work for many years now, but I feel he's finally starting to garner the recognition and attention that he and his work deserve. That, paired with the continued evolution of his craft are exciting and inspiring things for me to witness.
So what can we expect in the future? Any upcoming projects and/or exhibitions?
Definitely more paintings. Painting is my passion, and I plan to do this forever. I also want to continue my explorations in collage and installation. Currently, I have six large paintings included in the 2016 Florida Prize in Contemporary Art exhibition at the Orlando Museum of Art. That show is up through August 28th.
Also, sometime in August, Swizz Beatz is planning the second edition of his No Commissions Art Fair in NYC. More details on that coming SO soon…
Awesome, definitely looking forward to it. Do you feel enough ethnic/minority artists get the opportunity to express themselves creatively?
I think things are improving and have improved drastically over the past several years. There has been a lot of great work done by great organizations and institutions to specifically highlight the ethnic/minority voice. Take the long standing initiatives of the Studio Museum as a prime example. The taste making Rubell Family Collection's (now traveling) "30 Americans" exhibition presents many of the most important African American artists from the past thirty years. The Getty Foundation is giving 8.5 million in grants for Latino and Latin American themed shows in Southern California. The show I was in, the Smithsonian National Portrait Gallery's "Portraiture Now : Staging the Self," featured 6 artists of Latino decent whose work dealt with issues of culture and identity.
We're also seeing many more minorities in high ranking curatorial positions, and also becoming active on the boards of museums. Swizz Beatz's recently took a seat on the board of directors of the Brooklyn Museum. I think we're seeing the art world really start to diversify, and I anticipate things and opportunities will continue to improve.
Well I highly appreciated this interview, and definitely look forward to seeing more work. Any last words and/or shout outs?
Thanks for the opportunity, and I look forward to making more work! Shout out to all my friends and family in St. Petersburg, especially my mother, all my friends and family in Miami, especially my wife and step daughter. Shout out to A.L.I.E.N. NYC, So It Seems, and Swizz Beatz.